Joe W. Del Biondo, PE (NY, VT)
"There are countless ways to engineer an electrical system; at Argus, we work until the single best solution to our client's challenge emerges."
In the role of electrical engineer, Joe combines his sophisticated technical expertise with an in-depth understanding of a system's end use. Joe has focused on power, fire alarm, nurse call systems and is an emerging site-lighting expert. He was the keynote speaker at the 2009 Onondaga County Planning Board Federation Conference. Joe spends his spare time on the golf course or out on the water in his boat.
Glen L. LeComte, PE (NY), LEED AP
"An Argus interior balances usability with comfort. Through an optimal mechanical design, a building becomes a resource as well as a pleasant, enjoyable space.
With extensive experience in mechanical engineering design, Glen's innovative solutions contribute to overall building functionality. Glen is especially well-versed in HVAC, plumbing, medical gases, temperature controls, and fire protection systems. Glen is Argus Engineering's resident LEED expert and accredited professional. He is also fluent in the latest LEED design software: Building Informational Modeling (BIM) and Revit. Outside of work, Glen is a custom furniture woodworker and aspiring winemaker in pursuit of a helicopter pilot's license.
Jon M. Guisbond, PE (NY, PA, VT)
"Because we take ownership in each project, we go the extra mile for our clients, ensuring their complete satisfaction in the end result."
Jon brings his robust mechanical engineering knowledge and inventive approach to every project at Argus. His healthcare experience led him to co-author an ASHRAE Journal article on Hospital Sepsis Control and TB Transmission. He is especially focused on the application of air systems in complex, special-use facilities and how ventilation can be optimized to improve the facilities' functionality. When not working on indoor air projects, Jon enjoys getting outdoors for fresh air and a little hiking, biking or boating.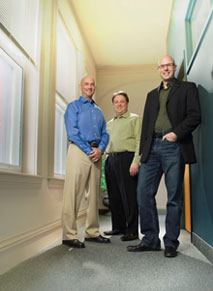 ---