Case Studies - Office/Commercial
Construction of Washington Station is Complete
Construction is now complete on Washington Station, a 10-story office building in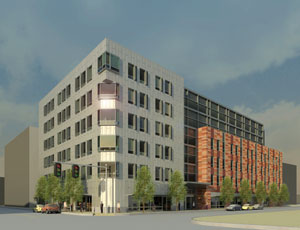 downtown Syracuse which is now the new headquarters for O'Brien and Gere. The construction on Washington Station, which is owned by Pioneer Cos., marks the first major office building construction in downtown Syracuse since Pioneer Cos. built 250 S. Clinton St. (also known as the AT&T building) in 1992. Washington Station cost $26 million to build, and tenants took occupancy in September, 2010.

Not only is Washington Station the first major office building to be built in downtown Syracuse in 17 years, but it is also the first LEED Platinum building built in Central New York. The Leadership in Energy and Environmental Design (LEED) Green Building Rating System, developed by the U.S. Green Building Council, is an internationally recognized green building certification system. Buildings that are LEED certified generally use resources more efficiently and provide a healthier work environment than conventional buildings. Platinum is the highest level of LEED certification.

Argus Engineering, the mechanical electrical engineering firm who designed Washington Station, used Revit software to design the building systems. Revit software uses 3-D, computerized, design technology instead of conventional 2-D MEP designs. This software allows engineers to foresee design issues as they design rather than during the construction phase. Revit was not only used by the engineers, but the architects as well. This allowed the engineers to work directly with the architects from the start of the project. With the engineers and architects working together off the same 3D plans the building process is more efficient and allows all parties a better understanding, and clearer picture of finished product.




Time Warner Cable Headquarters (Pioneer Development)

Syracuse, NY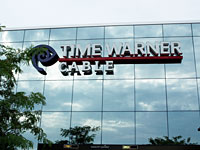 Project Completed: Fall 2000
Estimated Construction Value: $8 Million
Estimated M.E.P. Value: $2.5 Million
Services Provided: HVAC, plumbing, lighting, power, communications, fire protection and alarm, and security system design.
Project Summary: Argus Engineering provided mechanical and electrical systems design for the newly constructed, 120,000 square foot Time Warner Headquarters. The headquarters contained a sophisticated "head end" area that supported all of Time Warner's high-speed Internet services. Argus designed highly customized and code-driven solutions for corporate offices, a television studio, a massive warehouse, multiple vehicle service bays, truck-washing facilities and a satellite dish "farm."


---
"Argus has demonstrated they are steadfastly dedicated to client service. They are trusted engineering partners in every sense of the word who do not disappoint, and repeatedly exceed our expectations. We work as a team brainstorming pros and cons. They offer creative solutions to complex problems. We ask a lot of them, but, when they say they are going to do something, they do it. They always follow through, even during the most difficult scheduling situations. They pay attention to detail in documentation. They listen to us, and hear what we are trying to achieve. They are knowledgeable, motivated and talented people. They are a lot of fun to work with and they obviously like what they do."

-Architect, Client